May
29
Tue
Café & Chat | Fluxo Internacional de Dados
May 29 @ 17:30 – 19:30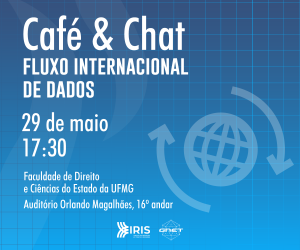 O IRIS – Instituto de Referência em Internet e Sociedade e o GNET – UFMG convidam todos a participar do décimo segundo Café & Chat!
O evento objetiva fomentar o debate acerca de temas controversos do Direito da Internet e da Inovação, refletindo as transformações sociais decorrentes das novas tecnologias. Os convidados são sempre de diferentes áreas do conhecimento e a dinâmica é propícia ao diálogo interdisciplinar.
Fluxo Internacional de Dados
O Café & Chat de abril discute o trânsito e armazenamento internacional de dados. Quais são as consequências econômicas, políticas e jurídicas do fato de os dados não estarem restritos a fronteiras nacionais? Como garantir sua proteção e quais são seus efeitos econômicos, políticos e jurídicos?
Para responder a essas e outras perguntas, trazemos nesta edição dois convidados:
Luíza Brandão: é fundadora, Diretora e Pesquisadora do Instituto de Referência em Internet e Sociedade, bacharel e mestranda em Direito pela Universidade Federal de Minas Gerais. Fundadora do Grupo de Estudos em Internet, Inovação e Propriedade Intelectual (GNet) e da Clínica de Prática e Pesquisas em Direito de Internet e Inovação da UFMG (2016). Interessa-se pelas áreas de Direito Internacional Privado, Governança da Internet, Jurisdição e direitos fundamentais.
Wagner Meira Jr.: é professor titular do Departamento de Ciência da Computação da UFMG. Wagner é PhD em Ciência da Computação pela University of Rochester (1997), além de mestre e bacharel em Ciência da Computação pela UFMG (1993 e 1990, respectivamente). Atualmente Wagner é pesquisador em produtividade do CNPq (nível 1B) e sub-coordenador do INCT-Cyber – Instituto Nacional de Ciência e Tecnologia para uma Sociedade Massivamente Conectada. Publicou mais de três centenas de artigos em periódicos e conferências de impacto e é co-autor do livro Data Mining and Analysis – Fundamental Concepts and Algorithms, publicado pela Cambridge University Press em 2014. Seus interesses de pesquisa são em sistemas paralelos e distribuídos, em particular na sua escalabilidade e eficiência, variando de sistemas massivamente paralelos a plataformas baseadas na Internet, e em algoritmos de mineração de dados, sua paralelização e aplicação em áreas como recuperação de informação, cibersegurança e governança eletrônica.
Horário: 17:30 – 19:30 (16 de maio de 2018).
Local: Auditório Orlando Magalhães, 16º andar da Faculdade de Direito e Ciências do Estado da UFMG.
Caso tenha interesse em certificação, preencher os dados do formulário: https://goo.gl/7vkTGL
Dúvidas: contato@irisbh.com.br